We hope that everyone is safe and well during these difficult circumstances we find ourselves in; hopefully over the coming weeks everything will slowly start to return to some sort of normality.
Following the latest announcement from the Football Association, Grassroots football clubs are able to restart training as long as their training guidelines are followed.
WFC will restart training at The Green, Wembdon from Wednesday 1st July, taking place on Monday's, Wednesday's and Thursday evenings for the junior teams and Saturday mornings for our youth teams on the nursery ground.  Age group coaches will confirm when they will restart training and if there are any changes to the plan detailed below.
Below are Wembdon FC's guidelines for all parents, carers, players and coaches.
When entering and leaving the training site please ensure the 2m social distancing is adhered to at all times.
Each player will be put into a coloured bubble group of 5, once in that group they will not be able to change from that group until guidelines change.

Age group Coaches will put players in to coloured bubbles and inform parents.

Once bubbles are set these will not change until the next FA announcement (Phase 2).
Parents will have to attend every session and adhere to social distance guidelines, players will not be allowed to train unless a parent is in attendance.
If a child receives a superficial injury and requires any First-Aid, a coach WILL NOT be able to administer treatment. A first aid kit for a parent to administer treatment will be present.
All players will be made to sanitise hands before training, they will be responsible for keeping their coloured bib and be expected to bring freshly washed to every session.
Families are encouraged to walk to training sessions where possible and are advised to not car share with other families.

The car park will be open on training days but will be closed promptly after the last training session.

If a child shows Covid-19 symptoms, then that child and all those in their bubble group will have to miss training for 14 days.
Consent Forms to train will need to be signed on the first training session.
In the event of any persistent breach of social distancing guidelines by Adults or Children, they WILL be asked to leave training.
If you have any questions please feel free to contact your age group coach or e mail us at football@wembdonjfc.co.uk
Stay safe & stay alert.
Training Plan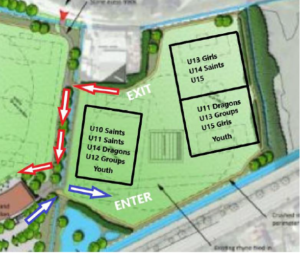 Mondays                                                        
6pm – 7pm U10 Saints
6:30pm – 7:30pm U13 Girls
6:45pm – 7:45pm U11 Saints
7pm – 8pm U15 Girls
Wednesdays
6pm – 6:40pm U12 (group 1)
6:50pm – 7:30pm U12 (group 2)
7:00pm – 7:40pm U13 (group 1)
7:50pm – 8:30pm U13 (group 2)
7:30 – 8:45 U15
Saturdays
9am – 11am (Youth teams) U7, U8, U9 & U10 Dragons.